Artists statement on the Basque diaspora.
Orain, zuek sortu!   2016

I felt intense emotion when I first saw the arboglyphes carved by Basque sheepherders of the diaspora in the America West. They represent for me the perfect demonstration of art as popular expression; artworks devoid of technical sophistication, answering simply to the pure need to express oneself and make a mark.
  Where does this need come from? In my view, there is in these carvings an effort to recreate a link with Euskal Herria; either by the use of Euskara or the graphic evocation of pictures emanating from life in the homeland. These pictures become the present, in a sort of geography of the soul that wills itself to continue in the future. This also an interesting prelude to a sort of communication which we know well nowadays -Facebook, twitter, blogs...-. The first person to discover a new carving, maybe a message, will be the fellow sheepherder who passes by the same route. What did these men feel? maybe a strong need for self-expression, whose only medium could be nature. The trees are there, reminding us of the forest of the homeland, a familiar surrounding inhabited by an invisible world. Silver poplars stand out as majestic, reliable, even magnificent supports. My only tool, a knife! to render images and words. A little true of me in this world.
  So this work is an interactive realization, set between sculpture and installation, as a tribute to these anonymous artists of the past. The title "Orain, zuek sortu!" / "Now, you create!", invites visitors to also create. By using his or hand "eskua!". Enable the spectator to be actor and creator in a simple and fun manner. And be able to touch!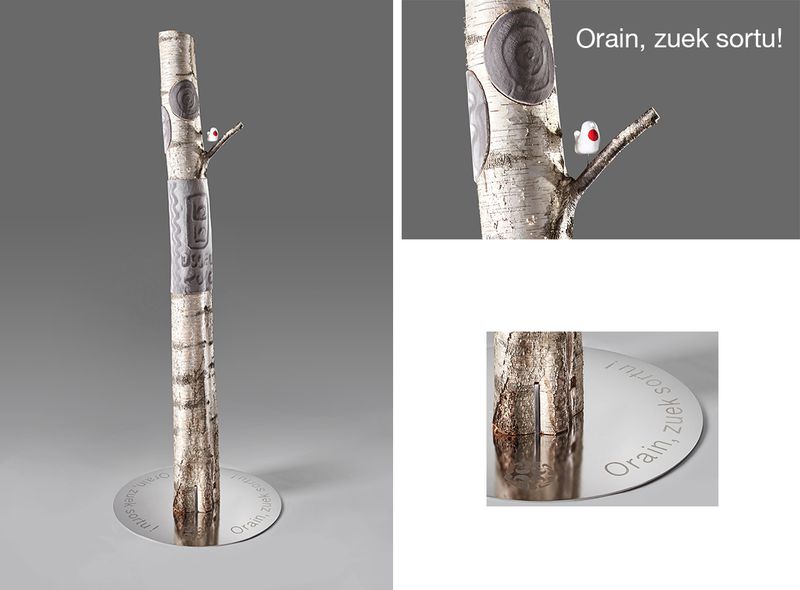 Photos : Benoit Roché / www.studio-eolia.com